Dentist gets his teeth into children's books.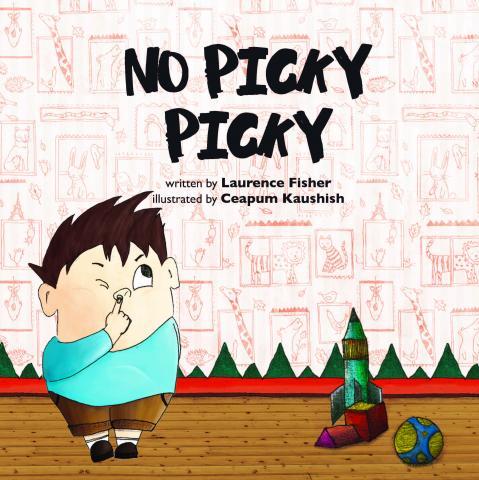 Laurence Fisher, Petone dentist and local author, is excited to announce the arrival of his first book for children.
With colourful, detailed illustrations aimed at pre-schoolers, No Picky Picky tells the story of Tom who likes picking his nose more than anything. It explores the weird and wonderful places that the finger reaches, much to his mother's dismay.
Laurence believes that kids books need to be fun, and that there should be some humour for the adult to also enjoy reading. With two young children of his own, he says that his daughters are his biggest critics and, when he gets it right, his biggest fans.
Local artist Alfred Memelink recommended the illustrator, Ceapum Kaushish, and No Picky Picky was printed by Printlink on Jackson Street. After 10 years of working on Jackson Street himself, Laurence says that the book should be considered as made in Petone. His next book will be titled Hillary and the Chocolate Mountain, and he hopes to work with Ceapum on many future projects.
Laurence has written five adult novels, the second one recently translated into Polish and detailing his mother's experiences of living in that country in the 1950s. He was delighted to be informed that the initial print run sold out immediately, and both he and his mother (also resident in the Hutt) have received many messages of thanks from Poland stating how much the book has meant to people there, and how it has inspired family conversations about this dark time in Poland's history.
No Picky Picky will be launched on Sunday November 8th at Alfred Memelink's Artspace Gallery on Petone Esplanade, 2-4pm. Both author and illustrator will be present, with activities and a colouring competition for children.
Covid-19 Traffic Light System
We are open to see patients under the current system, however we need you to do the following:
Answer our Covid-19 questions upon booking and confirming upon arrival
Wear face covering at all times
Sign in our Covid Tracer App
If you are unwell, let us know and we will reschedule your appointment
Call your GP or Healthline at 0800 358 5453